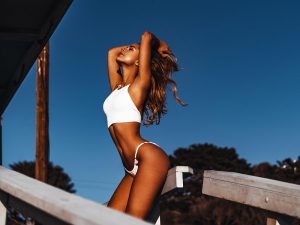 CLICK HERE TO VIEW MORE NUDE PHOTOS AND VIDEOS
Consider me a huge fan of Kimberley Garner. The striking slender British blonde model and merchandise pimping saleswoman forever and a day leaves you with the impression you'd like to run away with your worldly savings and take her to an island to make babies for the next decade. That's weird. I'm oversharing again.
Featured in Malibu in this Neil Warner oceanside shoot, the English sweetheart of the sextastic reveals one award winning body. At least, it's the measure by which I hand out awards. And, yes, I do keep the trophies in my pants and I am dam glad to see Kimberley. Her spectacular body does things to a man that can only be explained with glitter and triumphant symphonic music. Kimberley, let us escape to that little island of ours. I hear the Fyre festival place is available. Who needs running water? Our mutual passion shall creates its own rivers. Again, disgusting, but I'm signing up.