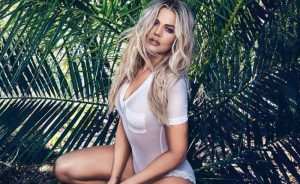 CLICK HERE TO VIEW MORE NUDE PHOTOS AND VIDEOS
Kendall and Kylie Jenner have recently been stealing the spotlight from the Kardashian gang, but all of that's about to change if Khloé has anything to do with it! Kendall managed to become a supermodel and recently walked the Victoria's Secret Fashion Show. Kylie now looks ageless – as in it's impossible to tell what age she is – and has been showing off her miraculous curves in a ton of pics. Gone are the days of Kim Kardashian in Paper Magazine! Today Khloé is here to help the Kardashian name regain the crown of basic cable reality show stardom with her new spread in Health Magazine, and I definitely don't hate it.
Khloé is looking pretty damn fine in these pictures. Because they fit her body type, it seems like her curves could be 100% natural. Just like Kim and Kylie! You can check out Khloé lounging in a tropical location in some revealing outfits, and the stars of the show here are her legs as well as the see-through action we get in that white onesie thing. Check out the pics above from Health and let us know what you think! In ten years will Khloé be remembered as the hot one?