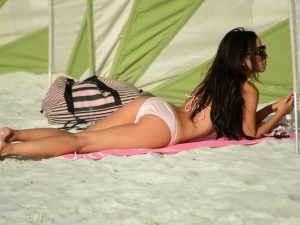 CLICK HERE TO VIEW MORE NUDE PHOTOS AND VIDEOS
It's hard to say what Lisa Opie does for a living besides hitting the beach and looking bikini perfect. As if you'd need to do anything on top of that. Or in addition to that I should say since on top of that just made my heart skip. Should she be wrapped in a sweater serving coffee in a Starbucks? Perish that horrid thought.
The former beauty pageant winner and petite curvy hottie, makes Miami her home base. And it is Miami she blesses with leer worthy sights of her frontside and backside swimsuit body hotness. She's got the whole package working. Hers and mine. Lisa, I think I want to spend a weekend with you in a lousy motel making sweet sweet love. The lousy motel part only because of the credit limit on my Player's Club Card. I'm packed and ready. If this sounds creepy then you're reading me right.